We are so very grateful for all our guests and for all the recent calls we have received to see how we did through the storm. The Robert Ruark Inn and Southport overall fared so much better than other areas in our State and along the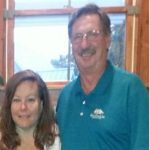 southeastern coast.  The Inn and the City were back up and running the Monday after the storm. The weather has been beautiful this fall and we are enjoying meeting new guests and catching up with guests who have returned for their second, third and fourth visits!
Thank you again for all your kindness and thoughts.
We look forward to seeing you again and are always humbled by the support of our Inn and of us.
All our best,
Rick & Linda