We are proud to announce that not only  has the Robert Ruark Inn received Trip Advisor's Service Excellence Award for the past five years, it recently passed a significant milestone according to TripAdvisor. https://www.tripadvisor.com/Hotel_Review-g49552-d1237147-Reviews-Robert_Ruark_Inn-Southport_North_Carolina.html
The Robert Ruark Inn recently received its 200th review of Excellence!
Linda Pukenas, one of the Inn's owners said she and her husband, Rick are "humbled and grateful" for all the wonderful guests they have had at the Inn. She said she and her husband are honored to receive such feedback and look forward to welcoming and sharing the Robert Ruark Inn, Southport and the entire Cape Fear Coastal area with guests from all over NC, the southeast, the USA and the world.
Linda added, "It is a privilege to share our historic and maritime Southport with visitors. We love being able to welcome them to our circa 1890 Inn and celebrate the history in a quite, luxury-oriented atmosphere.  We feel fortunate to be able to share the Inn which was lovingly restored in 2008 and is maintained by  us  via many local craftsman and talented individuals to whom we are extremely grateful."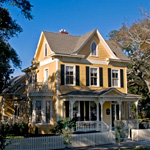 https://www.tripadvisor.com/Hotel_Review-g49552-d1237147-Reviews-Robert_Ruark_Inn-Southport_North_Carolina.html
Most of all, Linda stressed "We are so very grateful to our neighbors and the citizens of Southport who have supported our business throughout the years. We are thankful for Southport's tireless and magnificent Visitors' Center Volutneers & our wonderful Tourism Department headed by Randy Jones. We are also so very grateful to the Southport-Oak Island Chamber, the Brunswick TDA and all the businesses and citizens of Southport who make this City and our Inn so very special. " She added, "Every day we are thankful for finding and being able to live in Southport. And…every day our guests tell us how much they enjoy their time here as well. It is a true blessing and very humbling."